High Frequency Edge Gluer with Conveyor
Application
High frequency conveyor edge gluer is applied for board jointing, 90 degrees corner joint, cabinet board joint, door edge banding, L type door pocket line joint.
Benefits
Conveyor edge gluer uses convey belt for feeding, ensuring fast speed, saving time and labor.
Without gutter between small size boards, put boards quickly and easily.
Good applicability, it can be used for long and short size boards.
Covered special plate, operators can easily clean glue.
Worktable size can be customized.
Specifications
Model
GJB2513-L56-JY
GJB3213-L68-JY
GJB4213-L100-JY
GJB5213-L112-JY
GJB6210-L140-JY
GJB1325-L38-JY
Control
PLC, HMI screen, alarm & error display
Worktable size
2500x1300
(mm)
3200x1300
(mm)
4200x1300
(mm)
5200x1300
(mm)
6200x1000
(mm)
1300x2500
(mm)
Max working size
2440x1220
(mm)
3100x1300
(mm)
4100x1220
(mm)
5100x1220
(mm)
6100x980
(mm)
1220x2440
(mm)
Thickness
8mm-80mm
Vertical pressure
20T
20T
40T
40T
50T
20T
Horizontal pressure
36T
48T
60T
72T
90T
18T
HF power
20KW
30KW
40KW
50KW
50KW
20KW
Feeding
Conveyer belts/Pushing cart
Feeding speed
15m/min (Adjustable)
Open
Vertical lift
Application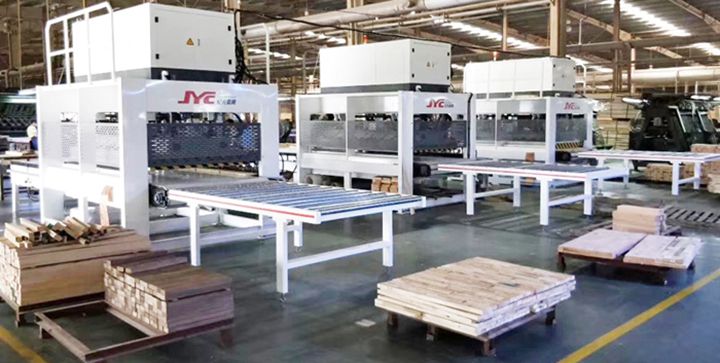 Other Products