Radio Frequency Press Slant Gluer for Door Frame Assembly
The radio frequency press is a special style of RF edge gluer for door frame assembly purpose. Due to its design of a slant working table, it is also called a slant gluer. Backed by our vast experience in RF press industry, the slant gluer is one of the most productive radio frequency presses in woodworking industries. This RF press can be used for solid wood door frame assembling, solid wood edge banding, door pocket edge banding, cabinet door assembling, panel jointing, etc.
Features of the Radio Frequency Press
High Frequency Heating
The frame press applies high power radio frequency generator which can ensures fast heating, thus improving production efficiency. Whole working table heating only needs 2-3 minutes. For those woods with less glue, the heating time is about 1 minute. For example, HUAFENG Furniture Group uses our radio frequency press and spends only 1 minute and 30 seconds to heat furniture door panel.
Short Work Cycle
When using this door frame press, you can enjoy extremely short work cycle that is only 1-2 minutes.
PLC Control
PLC control system enables that the press can automatically complete various processes including adding pressure from positive and side direction, high frequency heating, pressure maintaining, pressure removing, etc. It also boasts fault self checking and alarm function.
Hydraulic 3D Pressure
The door frame assembly press allows pressure at three directions. The hydraulic pressure cylinder at each direction can be ganged and controlled individually as well. Therefore, this radio frequency press can be used for wood board joining as well as frame assembling.
Slant Working Table
User friendly designed slant working table is convenient for operation and can alleviate labor strength.
Protective Devices
At both sides of this radio frequency press, optoelectronic switch protective devices are equipped for avoiding dangers caused by misoperation. In addition, the machine features multi protection from overheating, over current, spark, wind pressure, photoelectricity, ensuring safe operation.
Technical Parameters of the Radio Frequency Press
Mini Size Slant Gluers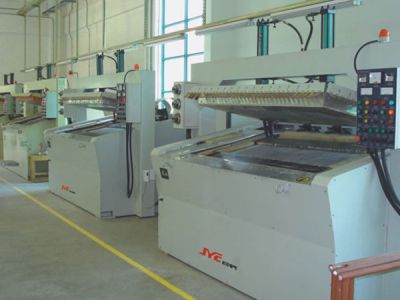 Model
Working table
1200×600mm
1600×800mm
Control type
PLC Control
Power supply
3 phase 380V, 50Hz
Output power
15KW
Frequency
6.78MHz
Pressure
Hydraulic 3D pressure
Commutate mode
Three phase full wave silicon commutate
Cooling mode
Forced Air Cooled
Functions
1) Small board joining
2) Solid wood frame jointing
3) Door pocket edge banding
4) Solid wood door assembling
5) Solid wood edge banding
Standard Size Slant Gluers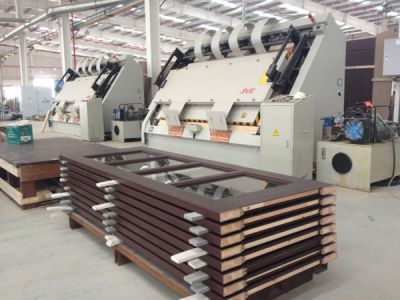 Model
Power supply
AC 380V, 50Hz, 3 phases, 4 wires or custom made
Control
PLC, HMI screen, alarm & error display
HF Power
20kW
Frequency
6.78MHz
Heating time
1-3 minutes
Cooling
air
Pressure
3 directions
Up-down pressure
6T
6T
6T
Front-rear pressure
25T
25T
30T
Left-right pressure
5T
5.5T
6T
Weight
5T
5.5T
6T
Customized Size Slant Gluers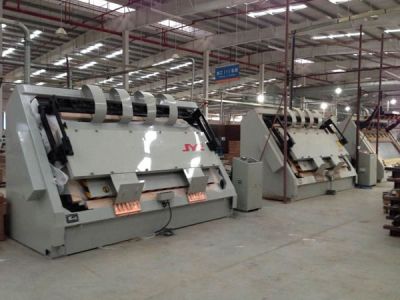 Model
Working table
3050×1220mm
Control type
PLC Control
Power supply
3 phase 380V, 50Hz
Output power
20KW
Frequency
6.78MHz
Pressure
Hydraulic 3D pressure
Total pressure
35T
Commutate mode
Three phase full wave silicon commutate
Cooling mode
Forced Air Cooled
Functions
1) Solid wood frame jointing
2) Batten sealing
3) Door pocket edge banding
4) Solid wood door assembling
5) Finger joint board joining
Application
Other Products