The continuous edge gluer or RF edge gluer is a kind of radio frequency press designed for edge gluing and laminating during woodworking process. It is a type of commonly used woodworking machinery that apply high frequency heating technology to the production of finger jointed and laminated boards, as well as solid wood edge banding.
Characteristics of the Radio Frequency Press for Edge Gluing
1. High radio frequency heats the glue at a molecular level, selectively heating the wetter areas within the machine itself, allowing the glue to cure rapidly. After heating, only the glue line is hot, rather than the entire panel, ensuring a higher efficiency and energy conservation.
2. The radio frequency press uses a world class hydraulic system in order to press the finger jointed or glued edge of the board in two different directions. The RF gluer uses a large pressure force, enabling the processed board to be as flat as possible, while only needing a small amount of sanding.
3. Wood paneling produced by the radio frequency press does not need to be maintained, improving production efficiency and increasing output.
Applications
Jiyuan offers a wide range of radio frequency presses that are widely used for gluing laminated wood, door seals, L-shaped door casing, door panels, chipboard, and MDF.
Chart for radio frequency heating principle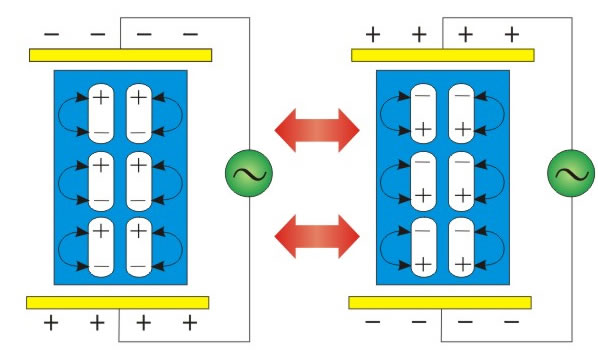 Requirements for wood: Moisture content 8-12%
Glue: water based glue